4 Ways To Make Web Pages Load Faster In Chrome
When was the last time you've booted up your PC and not browsed the internet? You can't think of it, right? The Internet has become an integral part of our everyday life, and so have been the web browsers. But struggling with the slow loading of the web pages has been a constant struggle for most of us.
So, I thought why not help you guys improve the loading speed on your Google Chrome and save some of your precious time You can use these tips on your Windows PCs, Macbooks, and some work on Android as well, so, let's get started with the steps. 
1. Update Google Chrome
Your Chrome browser will work best when it's the latest version. The developers constantly work on ways to improve performance of the Chrome and the only way to get those is by updating regularly. To update Chrome, simply follow the below-mentioned steps. 

Go to Settings > About Chrome
Now it will automatically check for updates. 
If there are any updates, it will show you and you can update directly.
Once updated, relaunch your browser. 
2. Hardware Acceleration For Videos
Video streaming are on the rise, be it Netflix or conferencing, or educational. And, video streaming can eat up a lot of resources from processors, making browsing quite slow. So, the solution for this is to let your dedicated/integrated graphic card handle the video streaming, clearing up resources for the CPU to work fast. To do this, follow these steps:
Go to Settings > Advanced > System.
Turn on the "Use hardware acceleration when available" option. 
Relaunch your Chrome browser. 
Note: this option is not available on Chromebook laptops. 
3. Chrome Clean-Up Tool
Certain malware and adware can harm your PC and create troubles like changing the default search engine, pop-up ads, and creating clutter in the web pages. Most of these things happen in Windows, being the most used operating system. So, to help this, Windows came up with an inbuilt anti-malware utility. Here's how you can access it. 

Go to Settings > Advanced > Reset and cleanup.
Now select 'Clean up computer' and click on 'Find'
It will take a few minutes to check and show you whether you have malware/adware that is causing the slow loading of web pages. 
4. If Nothing Helps, Reset Chrome
If none of the above methods work out for you, it's time you give your Chrome a fresh start. A reset will NOT erase all your data like bookmarks, history, and extensions. But, it will reset other things like the startup page, pinned tabs, and other browser settings. I will recommend you do it if you want a one-click solution and don't want to wander around. So, here's how to do it.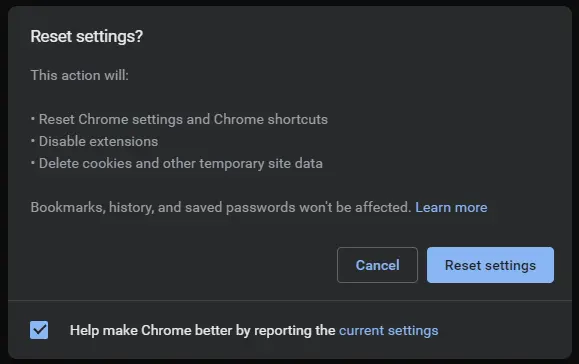 Go to Settings > Advanced > Reset and clean up.
Now select 'Settings>Advanced>Reset settings' and click on 'Reset Settings'.
In a few seconds, Chrome will reset all the settings and will start as fresh. 
FAQs
Can clearing up the cache in Google Chrome help improve the speed?
No, in fact, it does the opposite. When you visit a website again, Chrome will use the data stored in the cache to load the page faster. So, if you delete the cache, it will have to load everything again, taking up more time. 
Why is Google Chrome laggy?
Google Chrome may seem laggy because your PC doesn't have enough RAM. So, the best solution for this can be to open as few tabs as possible.