17 Essential Must Have Software For Windows 11
If you are new to a computer or have done a clean installation of Windows 10/11, you only have the programs that are pre-installed. And no, it is not enough. Each user will have certain needs, but there are some of the applications that are essential for most of the users.
Recuva has been around for a long time and is considered to be the best software to recover lost files and data. This tool presents a very simple wizard and offers deep scans, being essential in an emergency. I'd recommend you guys install it beforehand so that anytime you accidentally delete any file, you can recover it in a few minutes. 
Recuva has most of the main features available in the free version, but you can always extend by paying for the premium. In short, Recuva is a good choice for both casual users and frequent users who require a robust application for lost data recovery.
2. Windows Media Player
Windows Media Player that is built into Windows 11. It looks very modern and minimalist, remembering that Microsoft has left Windows Media Player behind. It also allows us to create playlists to organize our music in the way we see fit.
It has a clean and modern interface, unlike most media players today. Although it may not be as powerful as other media players, it just gets the work done without making you install third-party apps. 
3. OnlyOffice 
Not many people have heard about OnlyOffice but it is truly the best tool out there. What you are going to notice first is the impressive work done in making the UI almost identical to the standard Microsoft office. It delivers all of the powerful features you would want from a text editor and much more.
It can also include various third-party tools like mail, CRM, calendars, etc. So if you are looking for the best alternative office for creating work files, presentations, or spreadsheets, it can do it all. Users can collaborate on projects and do all the work online for free.
4. Brave Browser
Brave is a new browser with its unique capabilities. Its primary objective has been protecting the privacy of the users and it hasn't disappointed me in that. Brave is a stable, fast browser with a very interesting feature, an ethical ad blocker. It started as extremely primitive, but little by little it has improved and is now one of the safest that we can download. Creators also get rewarded with Brave Rewards. 
Being a chromium-based browser, it supports all the extensions from the web store and works flawlessly. So, if you're someone who doesn't like to see ads while browsing, Brave is the one for you. I've been using Brave for a long time and it has become my primary browser on my PC. 
Try Brave Browser
5. Photoscape 
Photoscape is basically a photo editor, however, the name doesn't do much justice because it has more features than just basic retouch. It has an image viewer, a screen capture tool, a batch editor, and many filers to quickly change the effects in any image. You can reduce the size of the images as well if you have any requirements
I love its UI, everything is present in a circular pattern on the home page and all the features are marked so that you won't have to dig in. It's fast, simple to use, and just gets your work done. Certainly, Photoscape is a must-have application on your PC.
Try PhotoScape
6. 7-Zip
If you're someone who gets annoyed with pop-ups of WinRAR asking you to buy their premium every time you use the app, then 7-zip is the best alternative for you. It is a utility app that can help your extract and compress files. It has an amazing compression ratio, although it's not the fastest out there. 7-zip offers AES-256 encryption password protection and has its own format called 7z.
Overall, it's a strong free option for all your compression and encryption needs that supports various file formats. Definitely, a must-have app for any tech-savvy user.
Try 7-ZIp
7. Free Download Manager 
Free Download Manager has become synonymous with download managers right now. It's certainly quite popular and it's totally justified. it comes with amazing features like support for torrents, multiple threads, can change download URL, and more. I am a regular user of this app and it's my daily driver for downloading any kind of file. 
There are different modes for downloads and you can even schedule your downloads. The UI is simple and clean, easy to use even if you're a first-time user. FDM is a necessity if you regularly download large files or you download too many files at once. 
8. HandBrake  
Originally a Mac software, HandBrake has made its way in among the PC users. It is a video encoding tool that has many great features like rip DVDs and changes in video formats/sizes. You can use it to compress your video files and do a lot more like applying effects, tweaking frame rates, cropping videos, and changing codecs.
HandBrake may look intimidating to many people because of its slightly complicated UI, but let me tell you, it is highly advanced and powerful. It should be installed on your PC beforehand if your needs are around video conversion and video encoding.  
Try HandBrake
9. Audacity 
Audacity is an impressive free and open-source audio editor and is just as good as some of the paid applications. You can use Audacity to record your audio, eliminate noise, apply effects, trip and attach different clips, and much more. This is a professional app that can fulfill all your audio editing needs.
Being so advanced, Audacity is fairly simple to use. There's even built-in crash recovery support which is going to protect your work. Once done, you can use the audio in lossless quality and format of your choice. Overall, an amazing tool for all the audio-related needs of a user.
Try Audacity
10. Bitdefender
Bitdefender's antivirus is just as good as other paid antiviruses in the market. It is packed with many useful features like additional Ransome protection, Wifi scanning to detect network issues, secure file deletion, and a password manager. I've found it takes a bit longer to scan the system but it's definitely worth it because it's much cheaper in comparison. 
Bitdefender's interface is easy to use and has all the functions on its home screen, which include quick scans, VPN, and more, just one click away. Overall, Bitdefender Antivirus has a policed UI and doesn't disappoint in any area. It's comfortable to use for beginners and offers the customizations that advanced users need.
Try Bitdefender
11. Driver Booster
Driver Booster is a handy tool for every PC user because we all know we regularly have to update and install missing drivers. It can automatically update drivers on your PC and informs you about outdated ones. It even creates restore points in case something goes wrong with the installation. You don't have to click through multiple installation windows for drivers, it will do the work in a single click for you. 
Its free version works flawlessly but you can always buy its premium to get faster download speeds, but the free version works well too. Whether you are a casual user, a professional, or a gamer, Driver Booster is a must-have application for anyone.  
12. DaVinci Resolve
If you too want to do professional-level video editing but don't want to pay for premium software then DaVinci is the one you should consider. It supports 8K editing, color correction, audio editing, visual effects, and all the professional tools you would want to use. Its system requirements are a little high though, with a dedicated graphics card and at least 8GB of RAM.
It may have too expensive features which can be complicated for beginners, but as you start using it you'd be acquainted. Da Vinci Resolve is free to download and will fulfill all your video editing needs. 
Try DaVinci Resolve
Alternative: Olive Video Editor
If your system doesn't have good enough specs to run Da Vinci Resolve than Olive can be your alternative. It's simple and fast to use. And the best thing, it can even run on PC is very low specs. It's open-source and free software that you can install and use right away. 
It's really lightweight and has all the basic features of a video editor. It might not be as powerful as the Da Vinci Resolve but it just gets the work done if you need it for basic video edits.
Try: Olive
13. GIMP
GIMP (GNU Image Manipulation Program) is an open-source and free photo editor which is packed with many impressive features. Most of its features are something you'll find in premium apps. You can find lots of layers, masks, levels, and curves to play around with.
If those are not enough, you can also install a photoshop plugin on it and it'll still work flawlessly. GIMP is an amazing option if you don't want to pay for premium apps like photoshop. Overall, I loved its usage and would recommend it if you want to do photo editing on a PC.
14. Portable Apps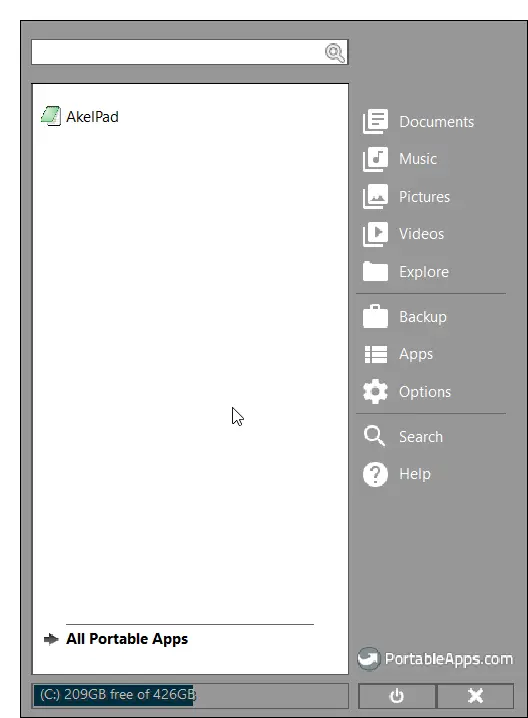 Portable Apps is probably the handiest tool on the list, and it's justified. This application lets you create portable versions for many different apps and store them on your pen drives, memory cards, or other flash drives. This can be really helpful if you want to use your apps in other systems with all the data intact. 
You can plug and play all the apps on any PC. It has a good collection of apps that you can install from either the application or from its website. Overall, this is an amazing app for everyone who is always on the move. 
Try Portable Apps
15. Adobe Acrobat DC
Adobe is a known name when it comes to PDF readers. Acrobat DC comes with an impressive design and all the features like pointers, highlighters, and attach comments. Acrobat even has presentation-like transitions which appear while moving from one PDF page to the next.
You can be connected to your team no matter what platform they're on, mobile, PC, or tab. You can easily share PDFs with people through multiple media. Whether you use many PDFs or not, Adobe Acrobat DC is an impressive PDF reader and a must-have app on your PC. 
Try Adobe Acrobat DC
16. ShareX
If you want to record your PC screen, take a screenshot, edit photos, change DNS, check Hash, make thumbnails out of images, and do a lot more in just one app then ShareX is the one for you. It has tons and tons of features built-in which make your work easier and faster. 
I was impressed by the number of features this app has. It has been my daily driver for screenshots and screen captures and other basic tasks and I recommend you the same. It's again an impressive app for every PC user. 
17. VLC media player
VLC is not a new app, it has been there for a long time. And I recommend you guys to use it as your primary media player for various reasons. It supports subtitles, numerous file formats, effects, filters, and much more. You also get the feature to stream any video from the internet with its link.  
Whether you watch videos regularly or not, VLC is a must-have app for your PC and should be your primary media player. Its impressive support and stability are what make it perfect for any PC. 
Try VLC Media Player
FAQs
What are the essential software for Windows 10?
Recuva, OnlyOffice, 7-Zip, and Free download manager are some of the essential software for Windows 10.
Where do I get apps for Windows 10?
You can download most of the apps from Microsoft Store. If not available there, you can download the setup from the official site of the applications' makers. 
What are some "must-have" software?
BitDefender, GIMP, ShareX, VLC media player, and Adobe Acrobat DC are some of the must-have software.