11 Ways to Boost Internet Speed in Windows (Easily)
Troubled with slow internet speed on your Windows computer, don't worry these problems are very easy to fix. Some changes to the settings and boom you will be able to boost your internet speed in windows 10.
Slow internet is the most common problem you can encounter with your windows computer, as nowadays everything we do with computers we do it while connected to the web and the faster the internet speed better performance and productivity we will have. So, let's dive into the 11 ways to boost internet speed in your windows pc or laptop.
1. Check Your Internet Speed
The first thing I want you to do is to check your current network speed, check the type of connection you use and your internet provider is providing you the promised internet speed or not, many a times the problem lies within the root, not in the branches. 
If you are on a limited bandwidth or your internet provider doesn't provide you the proper network speed then I would recommend that you change your connection type or Internet Service Provider.
Some of the online ways to check your internet speeds are Speedtest.net , Speedof.me, etc.
Below I have discussed some of the methods and settings changes that will help you with the problem of slow internet speed in windows 10.
2. Changing DNS Server
Windows uses the default DNS server provided by your internet service provider. You can change these DNS servers to some other fast server which may increase your internet speed.
To find the fastest DNS Server we are going to use a third-party software called DNS Benchmark. You can download the Software by typing in the Google Chrome search bar DNS BenchMark and clicking on the GRC DNS Benchmark Result or you can Click Here For a direct Download. 
After downloading and installing the software:
Click and Open the Software
Click on Nameserver
Wait till all the DNS servers in your Geographical area are being resolved 
Click On Run Benchmark 
After that Click Sort Fastest First

Now select the First Two DNS Servers and Follow the below steps to change the DNS Servers in your Windows 10 PC.
To Change Your DNS, sever:
1.       Go to Control Panel
2.       Now click on Network and Sharing Center
3.       On to the right, you will see the Change Adapter Settings option, Click on it.
4.       Right-click on your currently active internet connection and choose Properties.
5.       Form the list of all the different network Configuration double click on Internet Protocol   Version 4(TCP/IPv4).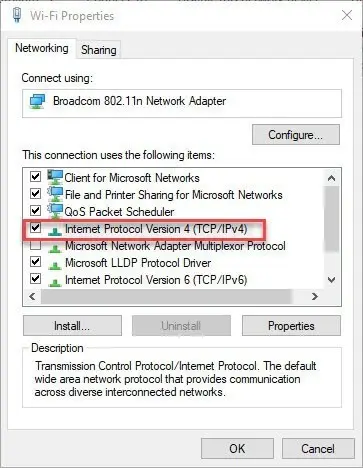 6.       Now select Use the following DNS Server Addresses.
7.       Now type in The DNS Server that you have picked in from the DNS Benchmark software.
Preferred DNS Servers: First Server 
Alternate DNS Servers: Second Server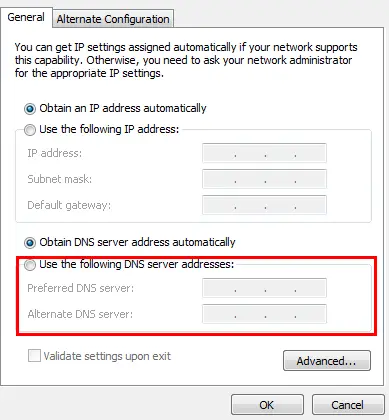 3.Netsh Commands
Netsh command is used to modify or reset network configuration like IP addresses. This method may not increase your speed to a great extent but it may result in a significant impact on your internet speed.
Steps:
1.       Type CMD in the search bar and RUN the Command Prompt as administrator.
2.       Now type, ** netsh int tcp show global ** then hit enter.
3.       Now type, ** netsh int tcp set global dca=enabled ** then hit enter.
4.       Now type, ** netsh int tcp set global autotuninglevel=normal ** then hit enter.
5.       Again type, ** netsh int tcp set global netdma=enabled ** then hit enter.
6.       Type, ** netsh interface tcp show heuristics ** then hit enter.
7.       Now type, ** netsh interface tcp set heuristics disabled ** then hit enter.
8.       After all the above type ** exit ** then hit enter.
Note: Some of the commands may not work for some of you and commands are in between ** / **.
4. Flush DNS command configuration
In the DNS cache, the location of the web servers containing your recently viewed web pages is stored. If the location is changed before the DNS updates its cache files you can no longer access the web pages through that server. So, to avoid that we need to flush the DNS cache which is no longer used or haven't been used for a long time, to do that.
1.       Type CMD in the search bar and Open Command prompt as administrator.
2.       Type, ** ipconfig/flushdns **, and then hit enter.
3.       Type, ** exit ** then hit enter.
Also Read: Best Ways to Load Web Pages Faster in Chrome
5. Changing the Default gateway, pinging services
A default gateway is an access point that a PC uses to send information to a network or internet whereas ping is considered as the response time the network takes for any requests.On changing the pinging services for the continuous reply from the default gateway we can increase the response time as well as increasing the internet speed.
To do so,
1.       Type CMD in the search bar and open it as an administrator.
2.       Type, ipconfig then hit enter.
Here you will see the default gateway address through which the information is passed.
3.       Now type, ping -t <your default gateway address>.
4.       For example, in my PC I will type, ** ping -t 192.168.43.1 ** then hit enter.
The pinging services increase the internet by decreasing the response time by continuously replying through the default gateway so don't close the Command Prompt minimize it. You can use it on a daily basis if it works the best for you.
6. Changing reserved Bandwidth
Windows 10 by default keeps 20% of the bandwidth reserved for windows updates and other services of the windows that means we only get 80% of the bandwidth to work on. If we disable the reserved bandwidth, we can get over all the bandwidth for our work thus increasing the internet speed.
To change the reserved bandwidth to zero you need to enable Local Group Policy Editor after that follow the following steps.
1.       Press Windows + R to open the RUN window.
2.       Type, gpedit.msc then press enter.
3.       On the left side click on Administrative Templates (expand it).
4.       Now click on Network (expand it).
5.       Now click, QoS Packet Scheduler
6.       On the right window click on, Limit Reservable Bandwidth.
7.       On the new window, select Enable and set Bandwidth Limit to "0".
8.       Click on Apply and Ok.
Now close the editor and you are in command of all your 100% bandwidth.
7. Disabling the automatic update
Automatic updates running in the background consumes a huge amount of data and can sometimes limit your network and your work for its own use. If you want to download updates manually, I would recommend that you disable the automatic windows updates.
To do so, follow the following steps:
1.       In the windows search box type Services and click on it.
2.       Scroll down, find and click Windows updates.
3.       On the New window Click on Stop.
4.       Now Click on Startup type and change it from automatic to Disable.
Keep in mind, downloading the updates on a regular basis otherwise, the problem will arise like deletion of files or "Blue Screen of Death" etc. and I am sure you don't want to face that.
8. Disabling Windows Background Apps
Windows 10 comes with lots of apps that require a continuous network to update the status and data. Like Spotify, Skype, etc. with this continuous use of data for updates, your internet speed will slow down. So, it's better you should quit all the unnecessary background apps from using your data and slowing you down.
This was my frequently used method to increase my internet speed whether it's a mobile or a PC.So, to find out and stop all the unnecessary apps running in the background and slowing you down follow the below steps.
1.        Click Start and then click on settings option.
2.       Now click, Privacy.
3.       Click on Background Apps.
Here you will find all the background apps that are running and using your bandwidth.
4.       You can identify and disable the background apps which are unnecessarily using your bandwidth.  
9. Other tips
Uninstall OneNote: If you are among those users who use Microsoft OneNote app to take notes then you should consider uninstalling it unless you are not forced to work on it. OneNote continues to run in the background and consumes a lot of your resources. Many reports have shown that this app was the major problem for your internet slowdown.
Disable Peer to Peer Updates: It's one of the windows features that allow computers to share Windows updates peer-to-peer with other computers over the internet. This will unknowingly slow other things thus compromising your important work.
To Disable Peer-to-peer updates feature:
1.      To start off, Click Start and then type Settings and open it.
2.       Click on, Update and Security.
3.       Click Advanced Option.
4.       Now Click, Delivery Optimization, or How updates are delivered.
5.       Turn off the Allow Downloads From Other PCs.
Now Check Your Internet Speed.
10. Disable Large Send OffLoad
Same as Peer-to-peer updates, Large send offload is another feature of windows which uses your internet bandwidth and can slow your things down. This feature is designed for better network performance but it allows lots of background apps to consume data making things worse.
To disable LSO:
1.       Press Windows +R to open Run Window
2.       Type in, devmgmt.msc then press enter.
3.       Double click on Network Adapters.
4.       Select your Network Adapter Type click on it.
5.       On new window Click on Advanced Tab
6.       From the list of Different Properties selects Large Send Offload V2(IPv4).
7.       Change the value to the disabled on the right.
8.       Now Click Large Send Offload V2(IPv6) and change the value to disabled.
9.       Click OK.
11. Update the Network Drivers
If you are using wi-fi then you can work on router settings or if you are connected with the ethernet cables then you should look for the installed network card which communicates with Operating System software through programs written in machine language which are called drivers.
You will face a lot of issues if your drivers are not updated, in case of internet speed it will slow your things down and no above solution will work for you.To update your drivers, you need to identify the type of drivers, downloading its updates and installing them. 
How to do it, you can do it manually or I would recommend using any third-party tools Like Driver Booster which comes with a lot of Advance features like system optimizer and Driver Updater, etc to help its users.
Conclusion
In today's time, a fast internet is like a required supplement for our daily work so in the above article I have shown you how to fix your sluggish internet speed. After applying the above methods or the settings if something went wrong or the internet is not working then follow the same steps and change it to the defaults it will restore your previous settings.